Whether you love them, hate them or barely even notice them, trends are an ever-changing and omnipresent part of life. In fashion they come in seasonal cycles and move fast. The interior world tends to be influenced by "macro trends" that move more slowly (thankfully).  But where do trends come from and who decides that they're a thing?
UK trend forecasting agency, Scarlet Opus, is one of the thought leaders in this space. They work with retailers, designers, media and manufacturers informing them of consumer insights and colour and design trends.
Working 2-3 years in advance, lead forecaster Victoria Redshaw explains that the predictions come from intensive research, analysis and translation of world events, films, politics and economics. These factors all impact the mood of society; our fears and outlook.
"This influences the colours that we want to surround ourselves with. It has an effect on textures, styles...whether we want something more subdued, or textural,"explains Victoria.
Scarlet Opus forecaster Phil Pond highlights the current desire for natural materials and a connection to nature as one of the strongest macro trends happening right now.  "Designers being influenced by biophilia are growing in number and geographic spread...concrete and natural materials like wood, cork, bamboo and wool are all in demand," says Phil. "It's a trend that's not going away anytime soon."
Interior designer Vic Bibby from Bibby & Brady agrees. " I  think we'll continue to see natural materials being favoured and people embracing a slower pace of life in this hectic world we live in. Materials such as terracotta and cork are set to make a comeback. Both add warmth and texture to your home."
Desert Wanderer
Organic and natural materials are a strong feature of the interior style Scarlet Opus has hailed "Desert Wanderer".
This trend is inspired by ancient cultures, slow-living and the nomad life; an antidote to our busy modern lives that are spent rushing. The palette is muted and soft with tones of orange, ochre, cinnamon and kale. Layer with tribal patterns and hand-woven textiles. Pop in some Moroccan poufs, beni ourain rugs, sea grass belly baskets. Contrasting with the clean-lines of mid-century furniture gives this style a warm, tactile, eclectic look that both envelopes and excites.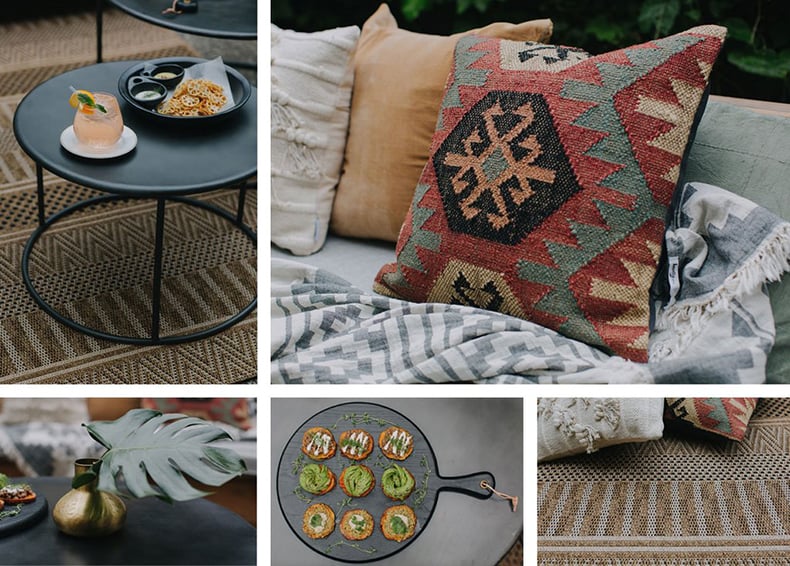 Desert Wanderer flows well with the message - 'Tribe' - which Scarlet Opus predicts to be strong in 2017. This is an attitudinal trend towards supporting the independence of women in all cultures.  Products that support fair-trade initiatives in underdeveloped countries will appeal, not just for their ethnic look, but their social impact as well.
Imperfect Beauty
Expect a twist on the metallic trend, with Scarlet Opus predicting metallic finishes that are cracked, burnished and eroded with imperfect effects.
"We see porous, gritty and distressed appearances contrast with high shine, sleek and ultra modern metallics to create a luxurious twist on a trend that shines with luminous colour," says Victoria. Natural elements and geological materials such as stone, metal and wood will also be coveted in their organic or weathered forms. "Volcanic rock, organically formed crystals, gems and agate appear alongside a mix of raw metallics as we embrace the unprocessed materials of our planet and the next."
There's something undeniably cool about glamour that's not trying too hard; that's laid-back but luxurious at the same time. It's all about embracing the Japanese concept of wabi-sabi and appreciating the beauty of deliberate imperfection.
Delighting in Deco
Speaking of glamour, expect to see a resurgence of the sophisticated Art Deco era in interiors. Interior stylist Kate Alexander from Places & Graces picks it to be the next big thing following last year's The Block Australia, which saw the makeover of a heritage listed Art Deco factory in Melbourne. "I'm predicting there will be a real surge in popularity for wall sconces and geometric patterns after that show," says Kate.
What about Colour Trends?
Dulux has released its Colour Trends for 2017 and, in keeping with Scarlet Opus' predictions, there's lots of globally inspired hues and subtle pastels that promote tactility and warmth. But you'll also find some bold, saturated combinations taking inspiration from the Memphis and Bauhaus movements. Could this be the end of our obsession with keeping walls white and neutral for the sake of property resale? Kate Alexander hopes so. "Kiwis are still quite afraid of being different because our homes are seen as investments."
The Sentience Palette is awash with soft, earthy tones and the use of the new product Dulux Suede Effects. "I love how it provides another dimension to this scheme by imitating earth's natural materials such as clay, minerals, stone and wood," says Dulux NZ Brand Advocate Michelle Harlford of The Design Chaser.
The full trend forecast can be found here and encompasses four curated themes: Sentience, Chroma, Entwine and Construct.  "Each year we take away an overarching concept from our research and in 2017 the emphasis on connection, tactility and balance prevails. There is an ongoing desire to create havens that cater to all our senses," explains Davina Harper, Dulux Colour Expert.
The Dulux Entwine Palette is influenced by tribal themes and the landscapes of South America and the Middle East, featuring colours such as burnished red, burgundy, brown and orange, zesty yellow and blue.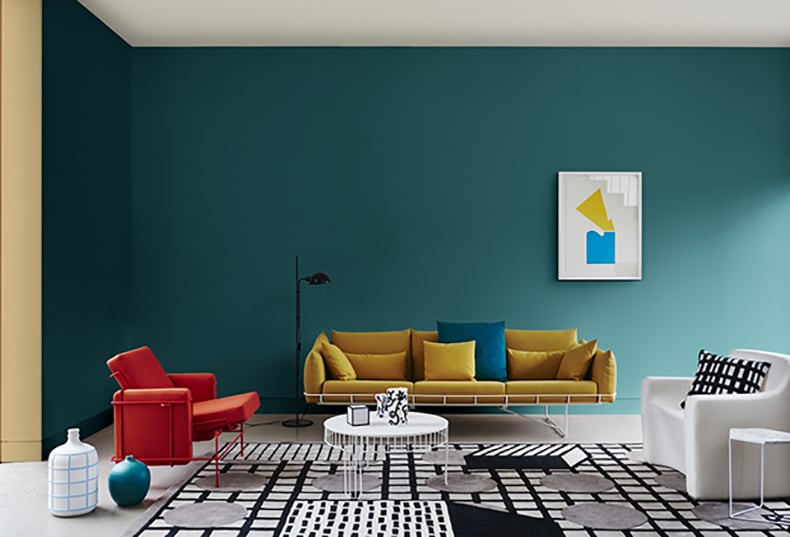 Chroma is the Dulux Palette influenced by the Memphis and Bauhaus movements. "Peach, melon, yellow and teal hues are combined with optical illusions, layered materials and reflections," – Michelle Halford, T.D.C
Which one of these trends do you want to try in your home this year?