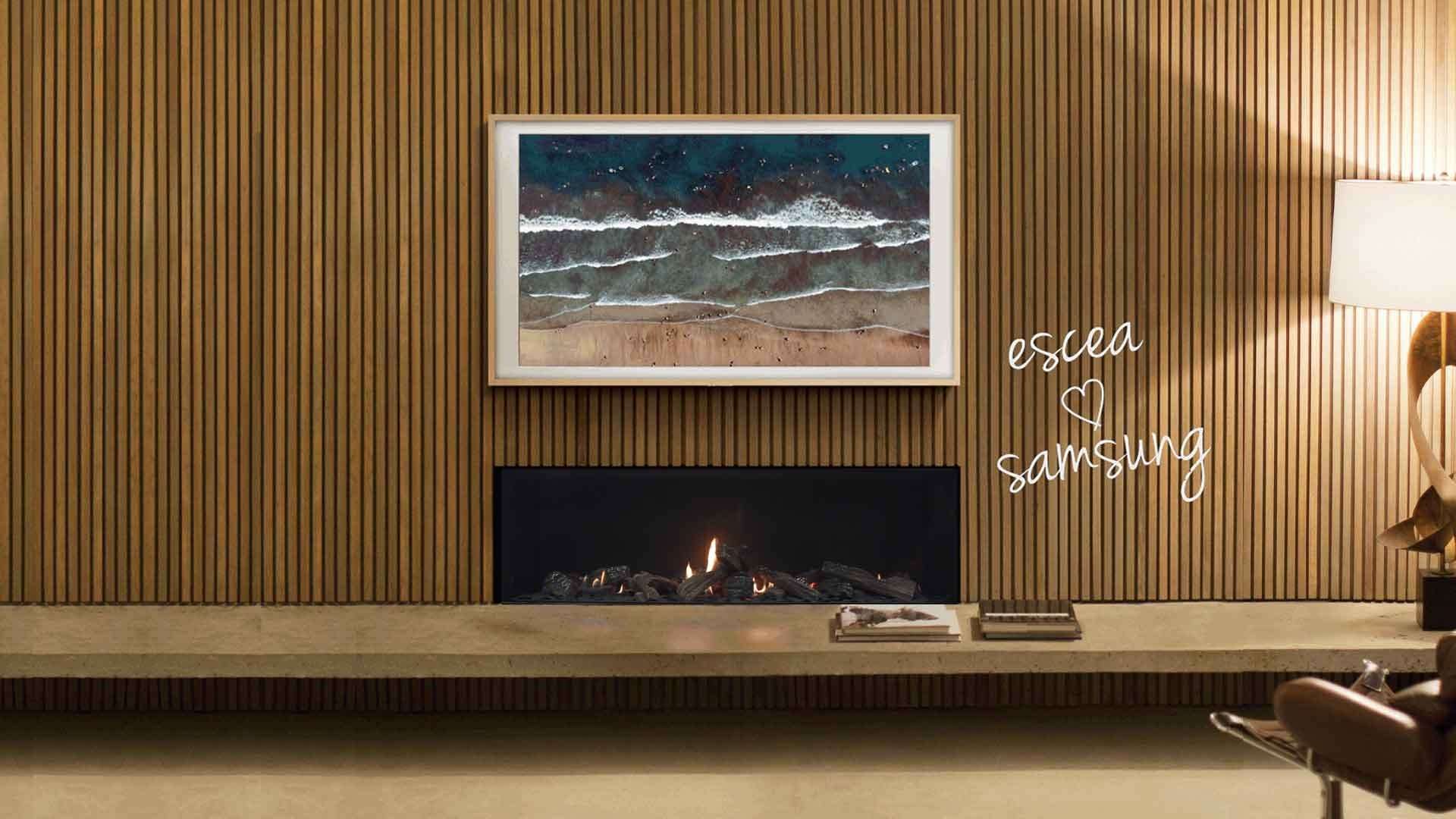 Samsung The Frame TV - Exclusive Retailer
These two were made for each other. And now, you can purchase the Escea DS Series and Samsung's The Frame TV together at Stoke Fireplace Studio.
Simply Meant To Be. 
Escea's Truly Frameless DS Series and Samsung's The Frame TV were simply meant to be.
The Escea DS Gas Fireplace combines sleek design with high efficiency, giving you a fireplace that not only looks stylish but actually heats too. Samsung's The Frame TV gives you an enriching TV experience that entertains when on, and when turned off, displays beautiful works of art that compliments any interior space.
And now thanks to Escea's Zero Clearance technology, you can place your TV directly above the firebox, giving you warmth, style, entertainment and ambience, all in the one place.
Truly Frameless DS Series 
You know that saying, "less is more?"
Well, it pretty much sums up the DS Series gas fireplace perfectly. There's less detail for more focus on the flames. Less wasted heat with a higher efficiency rating. And less depth to give you a sleek fireplace that uses a small footprint in the home.
The DS gas fire is truly frameless, making the wall seamlessly meet the glass. It makes a real statement as a room divider when double-sided, but is also a real feature single-sided too.
Lowest TV Clearance on the Market
Escea's DS Series has a TV clearance of 200mm above the top of the firebox, for your screen viewing pleasure. And with Escea's Zero Clearance technology, the wall stays cool, so there's no need for a mantel. 
About Samsung's The Frame

With the perfect balance of form and function, the latest evolution of The Frame TV demonstrates the marriage of technology and design in a brand new way. It's TV when on, Art when off.
Seamlessly blending into your space, The Frame is a stylish way to display your art collection. By detecting ambient light, The Frame automatically balances the screen's brightness and colour tone, producing a natural looking picture.
The Frame works perfectly above your fireplace – a match made in living room heaven.
Perfect Fit

Wondering which size DS Series fireplace goes best with which size The Frame TV? We've put together a handy guide to give you the answers.
Get Your Guide from Escea
Ready to Talk? 
Get in touch with your local Stoke Melbourne or Stoke Sydney Team now to get up close and personal with Samsung x Escea.
We're an authorised Samsung retailer with beautiful showrooms designed to inspire, and have flexible viewing times to suit you too.
So, what are you waiting for?